Guest Directory
Welcome to the Sea Otter Inn - Thank you for choosing to stay with us!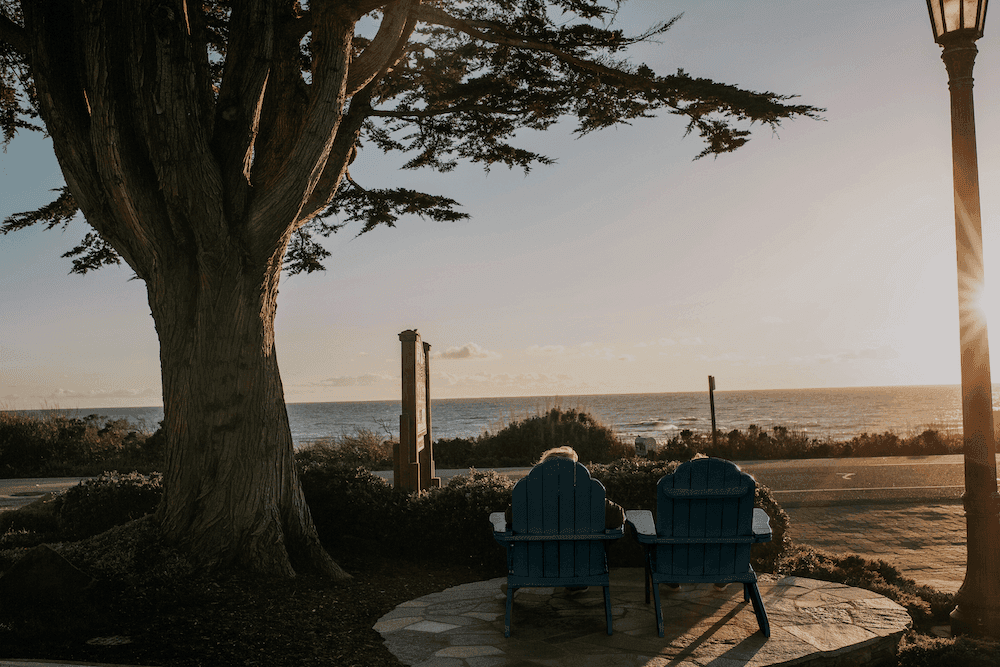 Your safety is our number one priority. To learn about all of the things we are doing to ensure you and our staff stay healthy, please visit our COVID-19 update.
We offer complimentary breakfast that is delivered to your room between 7:45am and 8:30am. Please hang your completed menu outside of your door by 7:00pm the night before.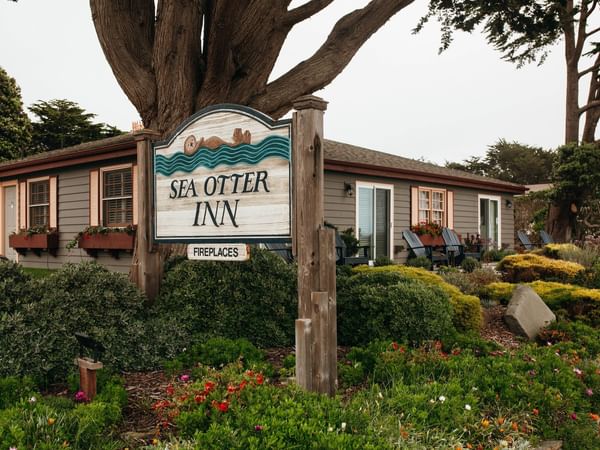 Check-in time: after 3pm
Check-out time: before 11am
Front Desk: Our office is open daily from 8am to 9pm by calling 805-927-5888 or by dialing "0" from your room. The front desk will be happy to provide:
Stay Over Service - our housekeeping staff will not enter your room during your visit. If you would like more towels, coffee or your trash emptied, please call.

Wake-Up Service

Key Card - should you lose your code, please notify the desk immediately so we can re-code your lock and issue a new one.
Emergency: call 911 for immediate attention.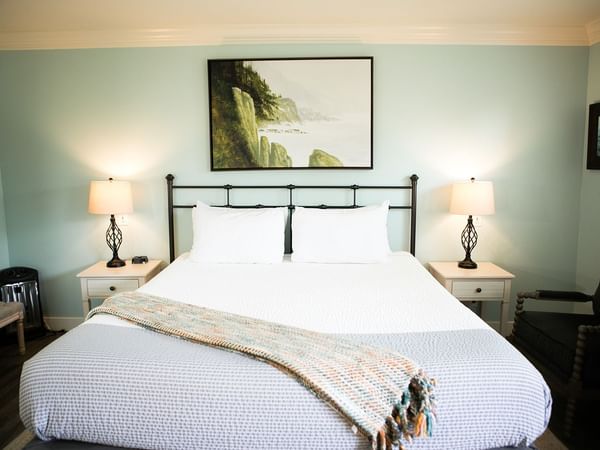 Operating Your Fireplace: In-room fireplaces are controlled by the thermostat on the wall. Turn all the way to high, and once the fireplace turns on adjust the thermostat to your desired temperature. Fireplace will turn on and off based on room temperature.
Internet Access: Your room is equipped with complimentary wifi. The password changes weekly and is included in your key card packet. Please call the front desk (dial "0") for assistance if needed.
Local Calls: Prefixes 927-, 924-, 920 are local and at no charge. No area code needed.
Long Distance Calls: Anything outside of Cambria is considered long distance. For long distance phone calls a calling card is required.
To Call Another Guest: Dial the Room Number
To Call Front Desk & Housekeeping: Dial "0"
Emergency: Dial 911
To view your channel list press the Menu Button on the remote. Highlight "Channels" Press OK Enter. Use the Up & Down arrows to scroll through the channel list. Press OK when you would like to select a specific channel.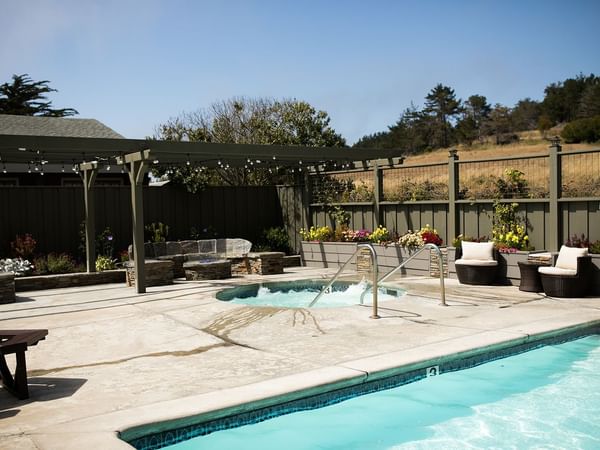 Our outdoor, heated pool and hot tub are open daily from 8am-9pm.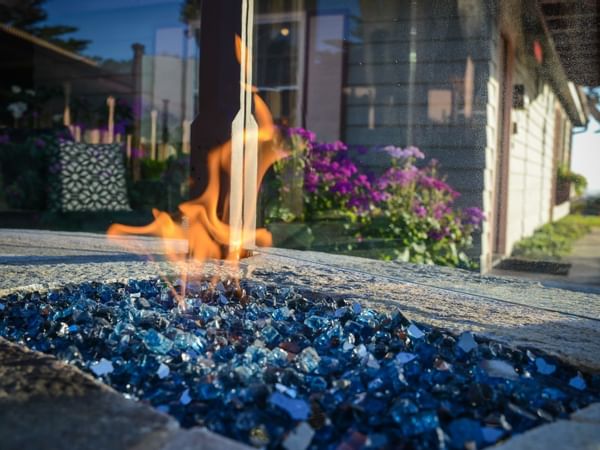 Relax on couches surrounding our outdoor fire pits while you enjoy a glass of wine or champagne (available for purchase in the office). Fire pits can only be turned on and off by staff.
Fire pits are turned on daily from 8am-9pm by staff are subject to weather conditions.
Wine and champagne are available for purchase from our lobby during open hours. Buy a bottle (or a few) and enjoy throughout your stay! Full bottles and splits are available.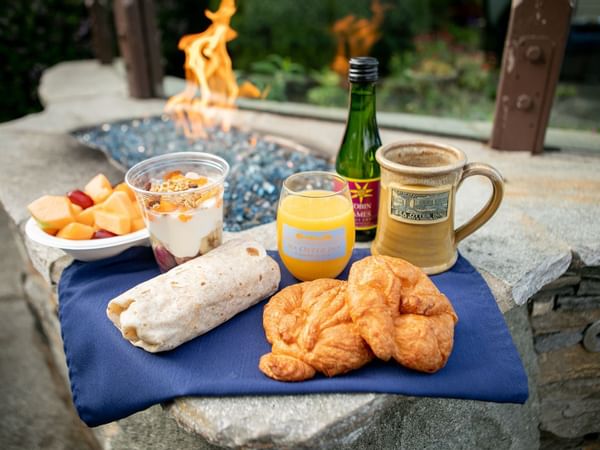 Complimentary breakfast baskets are delivered to your room between 7:45am and 8:30am. Please hang your completed menu outside of your door by 7:00pm the night before. Breakfast options include choice of breakfast burritos (bacon or veggie) served with homemade salsa, a yogurt parfait or fresh baked pastries and a fruit cup. Drink options include coffee, orange juice or milk. Champagne is available for purchase. Please note that there are no substitutions or special requests on breakfast items.
Looking for a great lunch or dinner spot? We're proud to be located in downtown Cambria, near some of the city's finest restaurants.
We welcome you and your furry friend in our designated pet rooms. To ensure your pet's safety and comfort during your stay, please review our pet policy:
Pets may not be left unattended anywhere on property. Please do not leave your pet alone in a guest room.

Pets must be on a leash or other form of restraint when out of guest rooms.

When in your room, please leave a Do Not Disturb sign on the door.

Please keep the noise your pet makes to a minimum.

Pets must be clean and free of fleas and other pests. Proof of current rabies vaccinations as well as other health certificates may be required, as deemed necessary by Management.

Owners must clean up after their pet and are responsible for any damage done by the pet.

Under no circumstances are pets allowed in the swimming pool or spa. A pool cleaning fee of $250 will be charged.

The nightly fee is $25 per pet for a maximum of two well-behaved pets per guest room. We charge $50 per night for a pet in a non-pet room.
In Case of Fire:
Plan what to do when you arrive in your room - you won't have time to plan during a fire.
Locate your room's fire exit(s). Be sure they are unblocked.

When you hear an alarm, act, don't investigate. If fire is in your room, get out and close the door. Once you're out, report the fire.

If fire is not in your room, leave if you can. First feel your door. If it's cool, open it slowly and proceed if safe. If your room door is hot, don't open it.

Crawl in smoke. Fresh air will be near the floor.

If you can't leave your room, seal off all cracks with wet towels. Shut off fans and air conditioners. Signal at your window. Call 9-1-1 and wait for rescue.
Security
Do not leave cash, credit cards, jewelry, travelers checks or other valuables in your room when you are away. The Lodge cannot assume responsibility for stolen property. To reduce the risk of theft, observe these steps:
Secure your valuables in a safe location and safeguard your room key.

Use the deadbolt provided on your door. As an additional measure, secure the safety latch. When leaving your room, be sure the door is locked.

Keep windows closed and locked.

Do not admit persons to your room without first making identification. If there is any question about a person asking to be let into your room, call the front desk.